Jurassic World: Dominion Dominates Fandom Wikis - The Loop
Play Sound
Featuring in every series of Made in Chelsea bar LA to date, Spencer Matthews will be among the longest-serving cast members by the time of his departure at the end of the tenth series,[1][2] having debuted in the very first episode.
Having become one of the most recognisable - and notorious - faces of the series, Spencer has been central to many major storylines over the last four years. His pursuit of Caggie Dunlop dominated the first two series, while his relationship with Louise Thompson (and accusations of affairs) played a major part in the following three. Spencer's clashes with the other boys also came to the foreground, most notably with Andy Jordan, but also Francis Boulle and briefly even best friend Jamie Laing in the third series.
Spencer also went on to date and cheat on Lucy Watson, Stephanie Pratt and Lauren Frazer-Hutton throughout the fifth to ninth series, cementing a negative 'lothario' reputation within and outside of the show,[3][4] and leading to him even seeking counselling in the sixth series. After being absent from the LA series, Spencer returned for the first half of the tenth series, breaking up with Lauren off-screen[5] and returning to his bachelor ways, dating a string of girls. He was last seen suggesting a date with Jess Woodley, but departed the series to join ITV's I'm a Celebrity... Get Me Out of Here! as a contestant,[1][2] and upon departing that, take some time to deal with his personal life.[6][7]
Background
[
]
Appearances
[
]
Series 1
[
]
Main article: Series 1
Spencer appeared in all eight episodes of the first series, initially with his then-girlfriend Funda Onal, and often alongside best friend Hugo Taylor.
Relationship with Funda
[
]
Despite his relationship with Funda, upon Caggie Dunlop re-entering his life he commented he expected that he and Caggie would hook up at some point within their lives. Weary of her reaction to him spending time with Caggie, Spencer doesn't tell Funda he's going to her first London gig, and when he finally reveals to her she's unhappy with him.[8] This sets in motion Funda's desire to meet Caggie for herself, and it becomes apparent to Caggie how close Funda is to Spencer. At Rosie Fortescue's dinner party, she becomes visibly upset and tells Spencer she needs to step back from him due to his relationship which he is saddened to hear. To Spencer's anger, Hugo suggests to Caggie that she moves on and dates someone else, which he orchestrates by setting her up with his friend CJ Chapman.[9] During the clay pigeon shooting trip, Spencer and CJ attempt to outdo each other throughout the day, and is relieved to find out Caggie has no intentions of things going further with CJ. Spencer inadvertently causes an argument between Caggie and Funda upon exchanging looks with the former, stirring Funda's distrust of him being around her when Caggie makes it clear the argument highlights her own insecurity about their relationship.[10] Spencer and Funda's relationship sours further when he voices his disapproval of her modelling and dancing, deeming it too provocative and that he's uncomfortable with other men seeing her that way. Funda is angered at Spencer's notion of what her career entails.[11]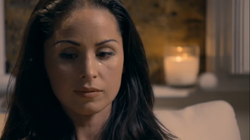 On a night out with the girls in an attempt to bond, Spencer's reputation is further brought into question when his ex Louise Thompson visits from Edinburgh, commenting she too was weary of Caggie when she dated him. When Spencer invites Funda on a night out she declines stating she's too tired. Spencer then questions why she's withdrawn and that she never wants to socialise, leading to another argument. Spencer goes out with Hugo anyway, and they decide to throw Caggie a surprise birthday get away to Cannes. He convinces Caggie over the phone to come, and to bring Millie Mackintosh who Hugo has just started dating. He also expresses his desire to Hugo to break up with Funda, citing they're different people at different points in their life. He then returns home to Funda in the early hours of the morning and the two talk, and he states he feels they should break up due to differences which he's no longer driven enough to resolve, and he's still unsure whether he wants to pursue Caggie.[12]
Pursuing Caggie
[
]
Spencer, Hugo, Caggie and Millie then venture out to Cannes, where Spencer and Caggie grow closer, though he doesn't reveal he's both broken up with Funda, and that it's only just happened. Caggie is shocked to hear this, and upon him suggesting they both date, she rejects him, leaving him crestfallen. Further upset awaits when the group return to London, as Funda hears word that Spencer has taken Caggie to Cannes. Funda argues with both Spencer and Caggie over this, feeling betrayed.[13] Spencer tries to cut his losses over Caggie and try a different alternative, by claiming to Millie that he's no longer interested in Caggie, leading her to become upset. Caggie confronts him angrily over this at the Masquerade Ball, and the two fall out.[14]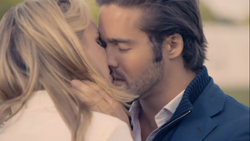 Spencer is shocked to realise his plan to win Caggie over has in fact driven her further away than ever, and she is planning to relocate back to New York. Despite telling Millie in confidence, Millie passes the information on to Spencer at the polo match as he bids Caggie a goodbye, and the two kiss. Comforted by Hugo, he tells him how he's always loved Caggie, and encouraged by Hugo, Spencer decides he can't let Caggie go to New York without trying to stop her. He races to Heathrow Airport in an attempt to catch up with her. When he arrives there, Millie greets him, telling him he's too late, and that Caggie's plane has already taken off, to Spencer's sadness.[15]
Series 2
[
]
Main article: Series 2
This series continues Spencer's interest in Caggie and whether they can formulate a relationship, culminating at Christmas. It also notably expands Spencer's close friendship circle beyond Hugo, introducing his other best friends, the "boys" Jamie Laing, shortly followed by Oliver Proudlock.
The series begins with Spencer again at the airport, awaiting a flight from New York, except it isn't Caggie he's meeting, it's Jamie who has just returned from a summer of holidaying.
Series 3
[
]
Series 4
[
]
Series 5
[
]
Main article:

Series 5
Reunion and final break-up with Louise
[
]
The series begins with Spencer and Louise back together having broken up temporarily during the interim between the fourth and fifth series, despite the cheating rumours from Christmas being true. Spencer now has a feud with Francis after he failed to speak to Spencer about the rumours first - though claims he has never liked him. Meeting Jamie and Proudlock for lunch, he finds out they've picked living with Francis over him. Spencer confronts Francis at the gig for Andy's birthday, and asserts there's no need for them to work out how to get along. After phoning Jamie, Spencer invites himself to the estate agents where Jamie, Proudlock and Francis have just signed contracts, despite telling Jamie to wait for him. He leaves angrily. That night, Lucy's revelation that Spencer texted her the day after he and Louise broke up temporarily leads to an argument during their dinner date, with Spencer walking out of the restaurant.[16] Spencer meets Proudlock for lunch, and tells him he's cross with Jamie rather than him, and is further annoyed hearing he's gone skiing with both Francis and Andy. He reveals he's been to Edinburgh to try and work things out with Louise - and if it is worth saving. He goes over to Rosie and Millie, telling the former he'd like to amends but dismissing Millie altogether, on the basis of her reaction to him cheating on Louise when she cheated on Hugo. He later visits Jamie and Proudlock in their new house, and clears the air with Jamie, though is still unhappy about the housing.[17]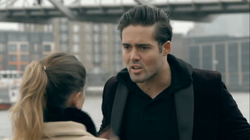 Spencer visits Jamie and Proudlock telling them he's going to end things with Louise, and that he's unhappy with who he's become but that he's worried how she's going to react. He then meets her at the South Bank and a huge argument ensues, with him blaming her for allowing him to treat her badly as she got back with him when he cheated. She deems him a manipulative sociopath while he deems her a control freak who's always upset, which she blames solely on him. Louise goes to slap Spencer, but he avoids it, and he tells her he expects her to go home and cry about it all.[18]
Singe life
[
]
Spencer meets Jamie and Proudlock for drinks that night at Archer Street, and tells them he finally found respect for Louise when she was honest, and toasts to single life. He later attends Rosie's "Fashion Targets Breast Cancer" party at Jalouse. He is coy with Proudlock about whether he's going to start pursuing other girls, but admits he finds party attendees Lucy and Phoebe-Lettice Thompson attractive who he introduces himself to, but Louise interrupts. She has since heard claims that he cheated on her, in her own bed, while she was in Edinburgh recently, and another argument erupts.[18] Louise reveals Spencer has offered her one-night stands to ease the break-up and tried to veto potential new suitors for her. Spencer meanwhile has confirmed to Stevie that the second cheating rumours are true, and he later bumps into him and Andy. they suggest Spencer admit the truth, which he agrees to at Upper West, and admitting he has a cheating problem. He asserts however that they've slept together ten times since breaking up, though Louise denies it. He also tells Lucy he believes her over Jamie over whether or not they hooked up in Verbier while with Tara Keeney.[19]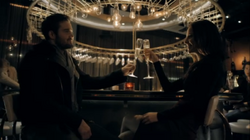 Spencer meets Jamie at his house, and the two discuss Spencer's post-break-up sex with Louise, as well as the fact Spencer has started texting Lucy. Jamie is surprised, but Spencer assures him he is on Jamie's side still after his fallout with Lucy. That night, Spencer and Josh Coombs meet Lucy and Binky in DSTRKT. Alone, Spencer and Lucy admit initial attraction to each other when they first met, and he gets her to agree to a dinner date, and he claims when questioned that it will help resolve Jamie and Lucy's falling out. Spencer meets Proudlock at his studio, and Proudlock suggests he forgives Louise for denying their recent hook-ups as he has lied to her so much, and he should now cut ties with her completely and move on. Spencer takes Lucy to Searcys Champagne Bar where he admits he feels he's gained a "dark side" which he wants to shake off, which Lucy suggests might not be straightforward. He asks Lucy if she'd join him for lunch soon at his favourite restaurant, but needing tickets for it, he's already bought two - and it's in Paris. Lucy happily agrees to go.[20]
Series 6
[
]
Series 7
[
]
Made in Chelsea: NY

[

]
Series 8
[
]
Series 9
[
]
Series 10 and departure
[
]
Outside of the series
[
]
Friendships and relationships
[
]
References
[
]
↑ 1.0 1.1 [1] Ben Travis, "Spencer Matthews looking to quit Made in Chelsea after entering I'm a Celebrity jungle", London Evening Standard, 17 November 2015, accessed 15 December 2015
↑ 2.0 2.1 [2] Anna Howell, "Spencer Matthews has QUIT, but is he gone for good?", Unreality TV, 17 November 2015, accessed 15 December 2015
↑ [3] Fiona Day, "Closer Online's date with Made In Chelsea's Spencer Matthews: 'I've been turned down a million times'", Closer, 3 September 2014, accessed 15 December 2015
↑ [4] Anna Howell, "Made In Chelsea: Spencer Matthews confirms he is STILL with Lauren Has he really changed?", Unreality TV, 4 March 2015, accessed 15 December 2015
↑ [5] Katie Storey, "MIC's Spencer Matthews on Lauren Hutton split: 'I didn't see a future'", Reveal, 13 October 2015, accessed 15 December 2015
↑ [6] Heather Saul, "Spencer Matthews is 'gutted' over being forced to quit I'm a Celebrity for steroid use", The Independent, 23 November 2015, accessed 15 December 2015
↑ [7] ITV News, "Spencer Matthews reveals he left I'm a Celebrity jungle over 'steroid-based medication' use", ITV, 21 November 2015, accessed 15 December 2015
↑ Series 1, episode 1: "Ad Victorem Spolias – To The Victor Go The Spoils", 60 minutes, E4, aired 9 May 2011
↑ Series 1, episode 2: "

Quick, Let's Have a Quickie

", 60 minutes, E4, aired 16 May 2011
↑ Series 1, episode 3: "I'm So Honest With Everyone, Maybe It's A Downfall", 60 minutes, E4, aired 23 May 2011
↑ Series 1, episode 4: "Do I Look Like Jesus?", 60 minutes, E4, aired 30 May 2011
↑ Series 1, episode 6: "

Problems Not Solutions, That's The Way I Live My Life

"
↑ Series 1, episode 7: "

Payback's A Bitch

", 60 minutes, E4, aired 20 June 2011
↑ 15.0 15.1 Series 1, episode 8: "

I Find It The Biggest Turn On That He's Shouting At Me

", 60 minutes, E4, aired 27 June 2011
↑ Series 5, episode 1: "

I Made A Mistake That I Wanted To Cover Up

", 60 minutes, E4, aired 8 April 2013
↑ Series 5, episode 2: "

I Am Not A Robot

", 60 minutes, E4, aired 15 April 2013
↑ 18.0 18.1 18.2 Series 5, episode 3: "

Of Course I'm Going To Say I'm Straight

", 60 minutes, E4, aired 22 April 2013
↑ Series 5, episode 4: "

He Is Being A Tit

", 60 minutes, E4, aired 29 April 2013