The tenth series of Made in Chelsea, airing from 19 October 2015 until 4 January 2016, wrapping up with an End of Season Party as its twelfth episode. Among the eleven 'regular' episodes, it additionally featured the annual Christmas special, as well as a New Year special for the first time, airing on the Monday leading up to New Year's Eve 2015. The series aired in one hour slots (including ad-breaks) on Mondays at 9pm on E4.
The series reintroduced Ollie Locke full-time, alongside Richard Dinan, and briefly Francis Boulle. Despite introducing several new cast members, none returned the following series, while it was also the final series to feature Spencer Matthews and Emily Weller, and possibly the last to feature Oliver Proudlock.
The storylines of the series initially carried several over from Made in Chelsea: LA, with Alexandra "Binky" Felstead and Josh "JP" Patterson finally becoming a couple, and Jamie Laing and Jess Woodley finally bringing closure to their flirtatious relationship. The return of Ollie brought with him love interest Emma Walsh, though this sours when newly-single Spencer returns to his old ways and hooks up with her. Also featured is Tiff Watson's admission to cheating on Sam Thompson and the fallout, alongside deteriorating relations between her and her sister Lucy. Additionally, Louise Thompson is accused of kissing Elliot Cross, which she suggests to her boyfriend Alik Alfus may have happened when she was drunk.
Episodes
[
]
List
[
]
"

No One Ever Kicks Me Out Of Bed

"
"

You Look Like A Unicorn

"
"

You're Digging Yourself A Grave

"
"

He Lives And Breathes Vagina

"
"

I've Heard He's Quite A Thorough Lover

"
"

You Don't Get Anywhere In Life Without Visualising The End Goal

"
"

We Were Like Two Peas In A Pod, And Now I'm Just One Pea

"
"

I Feel Like I've Been Put In A Naughty Corner

"
"

I'm All Over The Place Right Now, Emotionally And Florally

"
"

There's A Jamie Shaped Hole In My Life

" (Christmas special)
"

He's Making An Armageddon Of Mistakes

" (New Year special)

End of Season Party
Summary
[
]
Cast
[
]
Cast list and statistics
[
]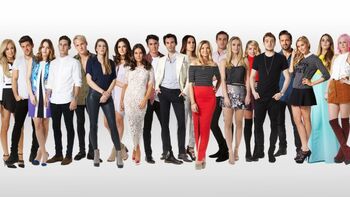 For a visual guide to the tenth series' cast members, see Portal:Cast/Series 10
The tenth series featured the largest number of credited cast members to date, with thirty-two featuring in total; the alphabetical list below lists all.
As a quick reference to cast changes, names highlighted in bold are new to the series, while those in italics departed during this series. Cast members highlighted in both only featured in the eleventh series.
Cast member
Credited as
Age during
Overall duration
Episode count —

series ten

Alik Alfus

Alik
26-7

NYC

–present
To be confirmed

Mitch Alfus

Mitch: Alik's dad
Unknown
11
1

Victoria Baker-Harber

Victoria
27
2–

9

, 10–present
To be confirmed

Brigita Baniunaite

Brigita
Unknown
10
To be confirmed
Francis Boulle
Francis
27
1–

6

, 10
1

Elliot Cross

Elliot
24
9, 10–present
To be confirmed

Richard Dinan

Richard
28-29

3

–

5

, 10–present
To be confirmed

James Dunmore

James
Unknown
9–present
To be confirmed
Alexandra "Binky" Felstead
Binky
25
1–present
To be confirmed

Jane Felstead

Binky's mum
Unknown
2,

4

–9, 10–present
To be confirmed
Rosie Fortescue
Rosie
25
1–9, 10–present
To be confirmed

Sam Harney

Harney
Unknown
10–present
To be confirmed

Nicola Hughes

Nicola
25 or 26
9, 10–present
To be confirmed
Jamie Laing
Jamie
26-7
2–present
To be confirmed
Ollie Locke
Ollie
27-28
1–

5

,

LA

–present
To be confirmed

Lily Ludovici Gray

Lily
Unknown
10
To be confirmed
Spencer Matthews
Spencer
26
1–9, 10
To be confirmed

Alex Mytton

Alex
24
5–present
To be confirmed

Josh "JP" Patterson

JP
26
9–present
To be confirmed

Stephanie Pratt

Stephanie
29

6

–present
To be confirmed
Oliver Proudlock
Proudlock
27
2-9, 10
1

Tallulah Rufus-Isaacs

Tallulah
Unknown
10–present
To be confirmed
Louise Thompson
Louise
25
1–present
To be confirmed

Sam Thompson

Sam
Unknown
6–9, 10–present
To be confirmed

Georgia "Toff" Toffolo

Toff
20

7

,

8

–present
To be confirmed

Mark Francis Vandelli

Mark Francis
24-25
1–present
To be confirmed

Emma Walsh

Emma
32
10
To be confirmed

Clive Watson

Clive
Unknown
5, 10
2
Lucy Watson
Lucy
24
4–present
To be confirmed

Tiff Watson

Tiff
Unknown
8–9, 10–present
To be added
Emily Weller
Emily
26
9, 10
1

Millie Wilkinson

Millie
24
9, 10–present
To be confirmed

Jess Woodley

Jess
20-21
9–present
To be confirmed